Get the Facts
by

Washington REALTORS®

Nov 14, 2023, 15:30 PM
WR Exclusive Member News Weekly. Click here if you are having trouble viewing this message.
Member Updates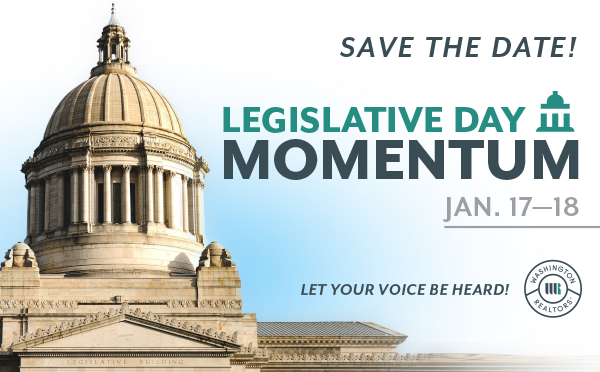 Mark Your Calendars - We're Headed to the Hill!
Please join us onJanuary 17th and 18thfor WR Legislative Days.You won't want to miss this exciting two-day event designed for members to gain insight into the legislative process, and see firsthand how our Government Affairs team advocates for REALTORS®. There's big change on the horizon for 2024; attending this event will ensure you're staying up to date with what's happening in today's market and on the hill.
Registration opens SOON, so clear your calendar for this must-attend event!
More Information →
Reserve Your Spot for OperationEvolve Before it's Too Late!
This knowledgeis imperative to your business, REALTORS®.January 1, 2024, Agency Law undergoes a transformation that will impact how you do business in every way, from agreements with clients to compensation structures…it's crucial that you're prepared.Avoid financial, legal and/or regulatory issues by registering forOperation Evolve: Revising Agency Law and Industry Practicestoday.
The Details:
November28th, 2023, 9:00AM- 12:30PM
Instructor: Annie Fitzsimmons
Live Webinar - 3.5 CE
Member Price: $25
IMPORTANT: The nextDesignated and Managing Brokers ONLYversion of this course is being offered on December 5th, 2023.Register here.
Register Here →
NAR Releases 2023 Profile of Home Buyers and Sellers
The National Association of REALTORS® has just released the 2023 Profile of Home Buyers and Sellers, an annual survey of recent home buyers & sellers who recently completed a transaction between July 2022 and June 2023. NAR reveals in thislatest report that, amidst shifting dynamics,the typical home buyer's annual household income has reached a record high of $107,000. Explore the report highlights to uncover more about the evolving Real Estate landscape.
Read More→
How VA Loans Helped This Veteran Buy His Starter Home—and His Forever Home
In celebration of Veterans & Military Family Appreciation Month, we want to ensure you understand the true impact of VA loans and how to help your clients use them to their advantage. In this article, Darren Zajdel shares his inspiring homebuying journey and highlights the advantages of utilizing VA loans, including minimal down payments and lower interest rates. Read more about Darren's story here.
Read More→
NAR Unveils Flood Disclosure Tracker
Last week, NAR released a state flood disclosure tracker in collaboration with the Legal Research Center. This tracker aims to educate the public and Congress as it considers the Federal Emergency Management Administration's (FEMA) legislative proposals to reform the National Flood Insurance Program (NFIP), including the unnecessary and misguided disclosure form proposal.
Read More →
Did You Know?
Your Membership Allows You to Create a FREE Realtor.com Profile!
Chances are, you've probably already created one, but are you making the most of your profile?
Ensure you maximize this benefit by completing your profile today. Only the agent profiles of NAR members are featured in the Realtor.com® Find a Realtor® search, so it's crucial to keep your profile up-to-date and accurate. Strengthen your brand, attract consumers, and score more leadsby completing your profile today!
Learn More →
Legal HotlineQ & A of the Week
Question
Recently our office has had transactions fail to close at the last minute for no contingency related issues. Buyer just did not want to proceed. Buyer brokerage offered a form 51 rescission and a form 50 earnest money disbursement and no other forms. My office policy is to reject any Form 51 unless approved by legal counsel. Reviewing all the 90 series forms and not finding a suitable form other than blank notice, what is the best option to document the file? If buyer agrees that earnest money is to be forfeited to seller then we advise signing the disbursement form.
Answer
It is important to remember that if the closing date has passed, then the PSA is expired and already void.There is no agreement to be rescinded or terminated and thus, no need for a Form 51 or a Form 90. Instead, all that remains is disbursement of the EM making Form 50 the appropriate form to use. If escrow claims that a form terminating the PSA is necessary in this set of facts, escrow is simply wrong and brokers, who are held to the standard of care of a lawyer in preparing transaction documents, should not take knowingly wrongful action based on prompting from escrow.
If the closing date has not yet passed and buyer is simply stating an intention to breach the contract by failing to close on the closing date, this is a more challenging scenario. Simply put, RE brokers are licensed to get consumers into real estate transactions. RE brokers are not licensed to assist consumers to breach an agreement. If buyer wants to breach or if seller has been warned that buyer intends to breach, then broker should advise broker's client to seek legal counsel. Each party has rights and obligations under the existing agreement that should be considered in determining how to proceed. Should the parties seek to end the agreement early? Should the parties wait for the closing date to pass? Is there some other option the parties should consider? Answering these questions requires an analysis of the party's rights and obligations under the contract and an evaluation of the party's best option in light of the party's goals. Said differently, answering this question requires the giving of legal advice, advice that broker is neither licensed nor insured to give.
This is particularly true in that, as broker's question highlights, there is no statewide form intended to be used in assisting the buyer to breach the PSA. Notice forms are intended to be used when either party has a unilateral right to take action. That is not the case if buyer intends to breach. The rescission agreement is intended to be used when the parties mutually agree to rescind or unwind the transaction. That is also not the case when buyer announces a unilateral intent to breach the contract. As unsatisfying as it is, the only answer the Hotline lawyer can give in this situation is that broker must advise broker's client to seek legal counsel.
Printable PDF →
The Legal Hotline Lawyer does not represent Washington REALTORS® or its members. The advice contained herein does not constitute legal counsel. To browse through our database of past Q & A's, visitwarealtor.org/legal-hotline. Attorney Annie Fitzsimmons writes the Legal Hotline Question and Answer of the Week. This is a WR members-only benefit so you will be prompted to log in with your M1 number and password. Your Designated Broker is cc'd on Legal Hotline inquiries.
MARK YOUR CALENDAR
Mark Your Calendar for WR Legislative Days: Jan. 17-18th, 2024!
Operation Evolve Revising Agency Law & Other Industry Practices
Thursday, November 16th, 2023 (9:00amto 12:30pm) 3.5 CE Hours
Kitsap County Association of REALTORS®, Silverdale, WA
Operation Evolve Revising Agency Law & Other Industry Practices
Tuesday, November 28th, 2023 (9:00amto 12:30pm) 3.5 CE Hours
Live Webinar
At Home with Diversity
Thursday, November 30th, 2023 (9:00pm-4:00pm) 6CE Hours
Clark County Association of Realtors®, Vancouver, WA.
Operation Evolve Revising Agency Law & Other Industry Practices
Thursday, November 30th, 2023 (1:000pm-4:30pm) 3.5 CE Hours
Tri City Association of Realtors®, Kennewick, WA.
Train the Trainer: Teaching the Revised Agency Law to Your Brokers
Designated & Managing Brokers Only Version of Operation Evolve
Tuesday, December5th, 2023 (1:30pm to 5:00pm) 3.5 CE Hours
Live Webinar
Learn More & Register
Operation Evolve Revising Agency Law & Other Industry Practices
Thursday, December 7th, 2023 (9:00am to 12:30pm) 3.5CE Hours
Live Webinar
Learn More & Register
#ICYMI...FRIDAY VIDEO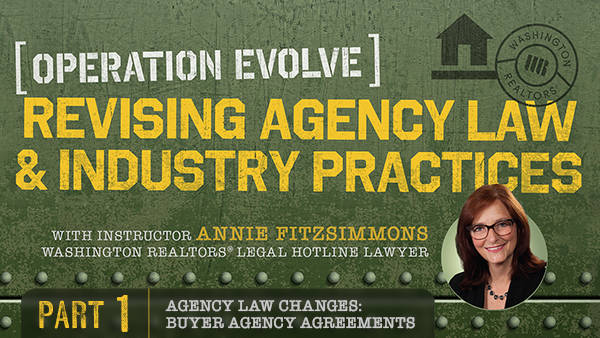 THANK YOU FOR BEING A
WASHINGTON REALTORS® MEMBER!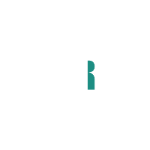 ©2023Washington REALTORS®
All Rights Reserved.
Toll Free : 800.562.6024 · Direct: 360.943.3100
Tech Helpline : 1-866-610-8939
or leave a message at 800.562.6027
Mailing : POBox 719 Olympia, WA 98507-0719