Get the Facts
by

Washington REALTORS

Oct 3, 2023, 16:20 PM
WR Exclusive Member News Weekly.
Click here if you are having trouble viewing this message.
Member Updates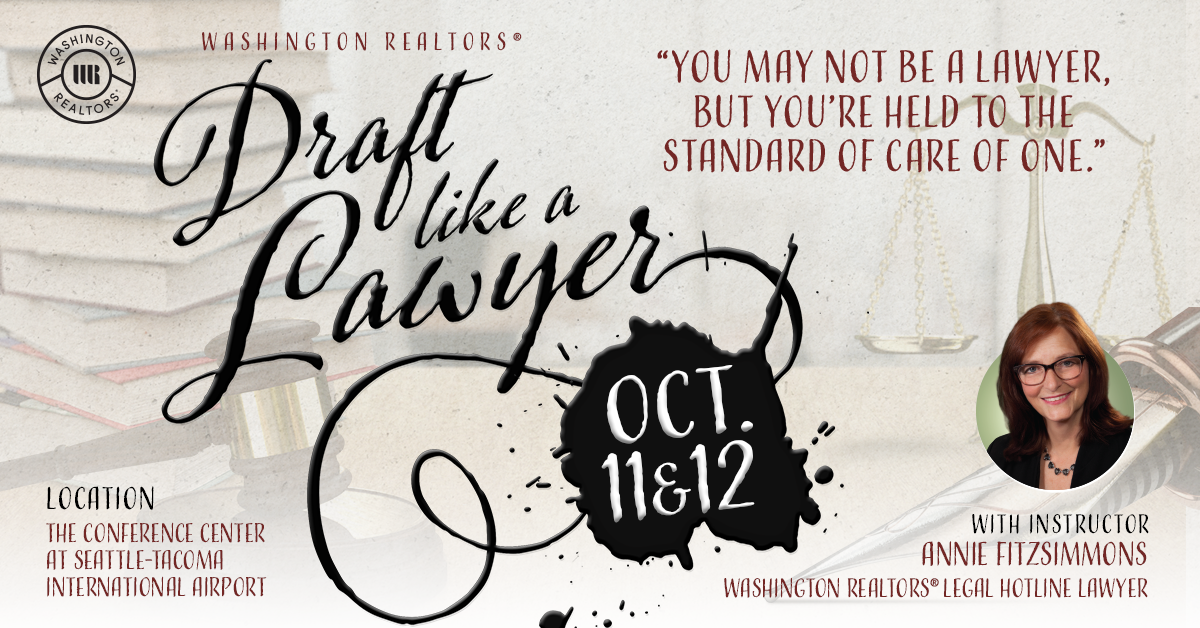 Oct. 6th is Your Last Chance to Register for Draft Like a Lawyer!
This exclusive event only comes around twice a year!Have you been to lawschool? Probably not...yet, you are expected to draft and use forms with the same expertise as a lawyer. With 100+ forms at your disposal through the statewide forms system, you must be able to...
Understand the latest revisions.

Choose the right form for the situation.

Recognize how forms interact.
We've got you covered!Join WR for our Draft Like a Lawyerevent in SeaTac. Spanning two days (Oct 11 & 12, 16 CE), this masterclass in forms educationled by WR Legal Hotline Lawyer Annie Fitzsimmons, will refine your drafting prowess and reveal best practices for integrated form usage.
Registration closesFriday,October 6th at 11 PM
Register Today! →
REALTORS®- Have You Heard?
The East Meets West Member Spotlight Event is FREE for WR Members! (please RSVP)
What's this event all about, you ask? We're invitingyou to join us foran evening of LIVE music from the Mojo Band, great food, and fun games! We'll hear from NFL Legend Drew Bledsoe in person (plus, enjoy a photo opwith Drew afterward!), andmost importantly, we'll highlight several exceptional REALTORS® from across the state!
The Details:
October 19th, 2023, 4 PM-10 PM
(Check-in opens at 3 PM)
Northern Quest Resort & Casino, Spokane
RSVP Today! →
NAR Launches Call-to-Action Regarding NFIP: REALTORS® Answered
NAR launched a rare nationwide call-to-action on Friday night, urging members to contact Congress to warn of the potential dangers of letting the National Flood Insurance Program (NFIP) lapse during a government shutdown. By Saturday morning, it was reported that tens of thousands of REALTORS® answered that call, successfully helping to thwarta looming government shutdown.
Read More →
Committee Applications Closing Soon
Looking to get involved? This may be the perfect opportunity for you!Those who are a part of leadership and committee work are the lifeblood of ourassociation and many walk away with long-lasting friendships, referrals from networking, leadership skills, and more.
NOTE:Members can serve onONE CORECOMMITTEE
(Membership, Operations, Legislative Steering, and RPAC) per term, but can serve on as many other committees, sub-committees, work groups, and task forces as you like.
Apply for what interests youbefore Oct. 15th to be considered!
Apply Here! →
Did You Know?
Your WR Membership Can Get You Discounts on Office Supplies?
That's right! Get your account set up and start saving on office supplies today through the Staples Business Advantage Program! See the learn more tab below for more information or contactLiz Garcia.
Learn More →
Legal HotlineQ & A of the Week
Question
I'm a managing broker/designated broker and also an agent. I have a listing and one of my agents is going to writing an offer on behalf of a buyer who is attempting to purchase the property.It is my understanding that I would then be a dual agent because I'm her designated broker and also the agent representing the seller. What disclosure would need to be made here and is there a form for that?
Answer
Seller consented to DB serving as a dual agent when seller signed the Form 1A listing agreement. DB is correct that he will be a dual agent based on this fact pattern and moreover, buyer will have separate representation through the buyer's broker. Said differently, buyer will have an advocate in the transaction but because DB is a dual agent, DB cannot advocate on behalf of either buyer or seller because doing so would necessarily be adverse to the DB's client on the other side of the transaction.
Although seller consented to DB serving as a dual agent when seller signed the listing agreement, DB may want to consider having a conversation with seller regarding the current status of representation and if DB is willing and able, offer to appoint another broker licensed to the firm to represent seller exclusively. If that happened, DB would still be a dual agent but each client of the firm would also have an agent advocating exclusively on their behalf.
Printable PDF →
The Legal Hotline Lawyer does not represent Washington REALTORS® or its members. The advice contained herein does not constitute legal counsel. To browse through our database of past Q & A's, visitwarealtor.org/legal-hotline. Attorney Annie Fitzsimmons writes the Legal Hotline Question and Answer of the Week. This is a WR members-only benefit so you will be prompted to log in with your M1 number and password. Your Designated Broker is cc'd on Legal Hotline inquiries.
MARK YOUR CALENDAR
REGISTER for theEast Meets West Event October 19th, 2023!
October19, 2023
Spokane, WA
October 11-12, 2023
Seatac, WA
WR 2024 Leadership Conference
Invitation Only
October 18-20, 2023
Spokane, WA
November 14-16, 2023
Anaheim, CA
Draft Like a Lawyer
Wednesday, October 11th, 2023 to
Thursday, October12th, 2023 16 CE Hours
Seattle-Tacoma International Airport, Seattle, WA.
Class will be held from 8:30am to 4:00pm both days.
Current Issues in WA Residential Real Estate
Thursday, October 12th, 2023 (9:00am to 12:00pm) 3 CE Hours
Oxford Suites, Bellingham, WA.
NAR Code of Ethics
Thursday, October 12th, 2023 (1:00pm to 4:00pm) 3 CE Hours
Oxford Suites, Bellingham, WA.
NAR Code of Ethics
Thursday, October 12th, 2023 (12:30pm to 3:30pm) 3 CE Hours
Live Webinar
Current Issues in WA Residential Real Estate
Thursday, October 19th, 2023 (9:00am to 12:00pm) 3 CE Hours
Live Webinar
Washington Real Estate Fair Housing
Monday, October 23rd, 2023 to
Thursday, October 24th, 2023 6CE Hours
Live Webinar
Class will be held from 9:00am to 12:00pm both days.
#ICYMI...FRIDAY VIDEO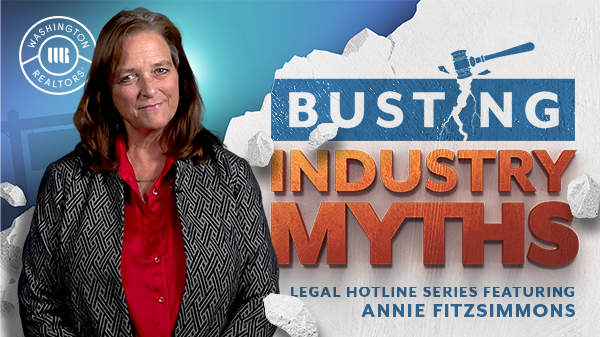 THANK YOU FOR BEING A
WASHINGTON REALTORS® MEMBER!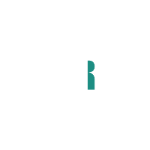 ©2023Washington REALTORS®
All Rights Reserved.
Toll Free : 800.562.6024 · Direct: 360.943.3100
Tech Helpline : 1-866-610-8939
or leave a message at 800.562.6027
Mailing : POBox 719 Olympia, WA 98507-0719